RUBBER FROM GOTLANDS GUMMIFABRIK
Manufacture of rubber products and silicone components
We have a wide range of customers who are in the fields of medicine, wiring, design, automotive, truck, and protection / breathing equipment.
We also have a large standard range of rubber products. Gotlands Gummifabrik AB specializes in the manufacture of rubber products such as bushings, rubber to metal, mooring compensators, rubber feet and Conduit entries. In addition, we manufacture gift articles and can also provide solutions for designers. We can also punch or cut details out ofrubber sheets.
Are you interested in getting your own product manufactured of rubber or silicone?
Rubber and silicone!

We are an experienced rubber manufacturer! We have worked with rubber since 1982. During these years we have manufactured millions of rubber parts to our customers around the globe. Rubber have great features that few other materials have. It is resilient and durable and also elastic. That also include silicon.
Gotlands Gummifabrik AB has for 30 years been a supplier of rubber and silicone components to numerous industries. We work with form rubber. Which means rubber articles that are cast with the help of a mould. Typical details are rubber plugs, silicone plugs, rubber gaskets, rubber seals or silicone seals. Other typical products can be rubber boots or rubber hoses.
News:
Hofacker
Installation of the new injection moulding machine! Finally the [...]
S O
Pågående träning på vår nya maskin i Lyon! [...]
OUR PRODUCTION METHODS WITH GUMMI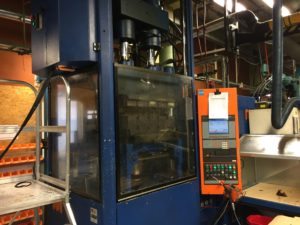 The best way to manufacture a moulded rubber or silicone part is by injection moulding. The mould is closed during the injection which saves deflashing times.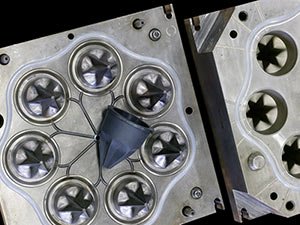 Want to get your own rubber bushing made? Do you have an idea for a new rubber bellows or perhaps a rubber hose? We can help you all the way from the tool to finished part.We can manufacture most rubber or silicone articles in most rubber materials. With talented suppliers both locally and also from Asia, we can quickly serve you with tools. Both the prototype and production tooling.
When producing with transfer technology you load a preformed rubber part in a slot and then the machine press a plunge into that slot. In the bottom of the slot you have holes into the cavity. so the material is pressed through the hole and the part is produced.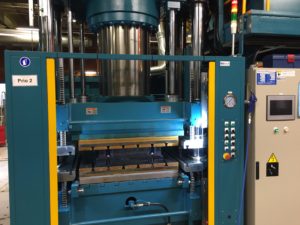 The easiest way to produce a moulded rubber part. Small series and where the mould cost is important. You need to preform rubber parts (not cured). Sometime one per cavity.